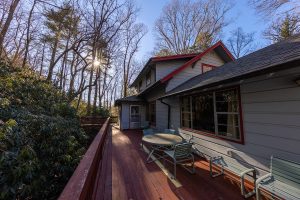 The University of North Carolina Asheville invites applications for the Summer/Fall 2023 Wilma Dykeman Writer-in-Residence. This residency offers the recipient four consecutive weeks between July 1 and October 31, 2023, to write in the quiet comfort of author and activist Wilma Dykeman's Asheville, North Carolina home. (The successful applicant will consult with UNC Asheville to determine the exact dates of their residency.) The Writer-in-Residence will receive a stipend of $2000 to cover transportation costs, food, and other incidentals.
The Program welcomes applications from writers whose work embodies a passion for equity and inclusion. The candidate's work should demonstrate a commitment to social, racial, and/or gender justice, and writers of all genres are invited to apply.
---
The History
This residency honors author Wilma Dykeman, a trailblazing advocate for social justice who promoted women's rights, gender and class equity, and racial justice before these endeavors became widely embraced. She exhibited a keen awareness of literary representations of women and drew attention to gender inequity through works such as The Tall Woman and her biography of birth control advocate Edna Rankin McKinnon. With her husband, James Stokely, Dykeman wrote about southern race relations and integration in the wake of the 1954 Brown v. Board of Education Supreme Court case. As the first woman on the Berea College Board of Trustees, she championed Berea's policy to maintain affordable tuition, thus continuing her work to advance the economically disadvantaged. For more information about Wilma Dykeman, please visit the Wilma Dykeman Legacy website.
---
The Home and Residency
The Dykeman residence is comfortably furnished and located in a wooded neighborhood 15 minutes from the UNC Asheville campus and 20 minutes from downtown Asheville. The Writer-in-Residence will occupy the entire home, allowing for a peaceful writing environment. UNC Asheville provides utilities, general property maintenance, and wifi service. Please note that the home is not ADA compliant. No children or pets can be accommodated at the residence. The Writer-in-Residence will collaborate with UNC Asheville to plan an activity that will engage with the campus and Asheville community during their residency. For more information about the home and residency, please visit the Wilma Dykeman Homestead webpage.
---
To Apply
To apply, please email the following information as PDF attachments to wir@unca.edu with the subject line: Dykeman WIR 2023 Application
a cover letter describing your current project and how the residency would support your progress on this work and how your project reflects the theme of inclusive excellence
an up-to-date curriculum vitae
a 10-20 page writing sample
two professional references
All applications must be submitted on or before April 3, 2023, and the recipient will be announced no later than May 1, 2023 via a joint press release distributed by UNC Asheville and the Wilma Dykeman Legacy.
---
Expectations
The Writer-in-Residence will be expected to collaborate with UNC Asheville to engage with the campus and Asheville communities during their residency. Details regarding this engagement will be discussed with the recipient when they are notified, and the University will provide funding for expenses related to this engagement.
---
Selection Committee
The Writer-in-Residence Selection Committee is composed of the following notable authors and community members:
Wiley Cash – Chair
Susan Andrew
Mildred Barya
Elizabeth Kostova
Annette Saunooke Clapsaddle